Kirkby Robots, one year on!
Published:
We had high hopes of completing Phase Two of our redevelopment (putting in another segregation yard and extending our cubicle building to replace those we sacrificed to position the Robots, as well as reseeding land needed for grazing) last Spring, BEFORE the deluge arrived. First cut silage on Kirkby Fields Farm was even completed on time but when first cut at Middlefields didn't happen until the third week of July we knew we were on plan B. We did get the reseeding done but were unable to get on them without doing irreparable damage. As it happened we had to keep the cows in sporadically as the weather dictated. Between "showers" the cows were able to graze and return for milking as and when they chose. The master plan was working and we were satisfied with the result.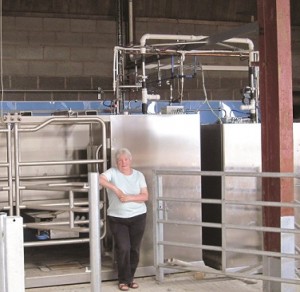 We have been pleased to receive visitors from all around the country to see the Robots in action. We are often asked what time will it be convenient to come? What time do you milk?" and of course it doesn't matter what time you come. There will usually be a couple of cows ambling in day or night. We have positioned camera's all around the farmyard some for observation of cows in the shed and some for security. These are invaluable as we are able to check what is going on wherever we are, as long as we have a Wi-Fi link. Alarms are activated from time to time when things go awry by the Robot computer and it seems to me that the Robot's always wait until Trevor is away. We have been fortunate to have an able student who can have the alarms sent to her phone.
The more we use and rely on the computer system the more we get out of it. For instance we have one cow that in the herringbone parlour we had to milk at the back and the move her forward to put the unit on a second time, not ideal. We thought it was because she was slow on one quarter although easily drawn. The Robot takes the cups off individually as the milk flow stops and we discovered that this particular cow gave 38% more milk from that quarter. Not slow at all, so how much had the other three quarters been over milked in the past?  This could be just one explanation of why mastitis incidence remains 68% lower than the year before. There has been an average increase in milk yield of 12.6% across the herd. (These figures I cribbed from our student's college assignment!!) I will add that we don't expect next year's yield to be as good due to the poor quality of silage we were able to make in our wonderful summer!!
When this 2012/13 winter finally looses its' grip (a note of optimism creeping in) we have the grazing ready and we plan to complete Plan B. We are still confident that Trevor took the correct decision to install our Merlin 225's and that they work well on our farm and with our Friesian herd who have the freedom to graze as they choose weather permitting of course!